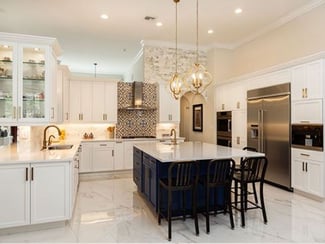 We are all so busy in our day-to-day lives, that we barely get a chance to catch our breath. Creating the ultimate kitchen, where you can cook, relax, unwind and share meals with loved ones is the perfect antidote to life on the go.
Valentine's Day is a celebration of love. It's the perfect time to reimagine your kitchen as the scene of countless moments of joy, laughter and special holiday celebrations to come. Paul Kowalski Builders can transform your kitchen into a stunning culinary space that you'll be proud to call your own. Our experienced team of professionals can make your dream kitchen a reality by accessing adjacent space, opening it to living areas and adding all of the items on your wishlist.
Investing in your kitchen increases your joy factor and the value of your home. No matter what your motivation is, kitchen remodeling is a good investment if the work is designed and constructed properly, with quality materials. Think big. You're not limited to your current kitchen footprint. Anything is possible with Paul Kowalski Builders.
Over the past 15 years, we have curated and molded a guided, collaborative design-build process. Our in-house architects can redesign your home to deliver extraordinary results and give you the kitchen you've always wanted. You will have a dedicated project guide to assist you from the beginning of your project through completion, answering your questions and helping you make informed decisions. You'll never be left wondering what the status of your project is. Our integrated team works together seamlessly and communicates with you for a concierge Design and Build experience.
Paul Kowalski Builders elevates the kitchen remodeling experience. We help you reconfigure your entire space to create a kitchen you'll love. Dreams do come true. Contact us.