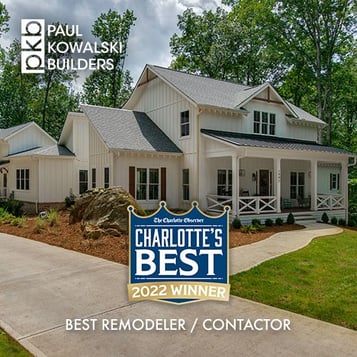 Paul Kowalski Builders announces that it has received the Gold award as Charlotte's Best 2022 Remodeler/Contractor in the Charlotte Observer's annual awards. This recognition is based on the nomination and votes of local residents, expressing their confidence in the architectural design-build firm.
"We are so gratified that the people and professionals in our community recognize that there is a difference in what we do. It starts with communication and documentation, and finishes with a high-quality product," states Paul Kowlaski, owner of Paul Kowalski Builders. "I think what makes us special here in the Charlotte market is our design-build approach to remodeling, with in-house professionals in architectural design and project management, who really care and want to make a difference."
Kowlaski's background includes a degree from Darla Moore School of Business at South Carolina for Marketing and Management. He went on to work for a residential construction firm in Charlotte for seven years, learning the sales and operations end of the business. The decision to start Paul Kowalski Builders came out of the Great Recession in 2008. When the home-construction market slowed down, Kowalski created the firm to specialize in remodeling. "I chose remodeling because I saw that people were underwater in their homes and couldn't sell them for what they were worth, but they still had expanding needs. I saw an opportunity to fulfill those needs by remodeling and homeowners could recoup those investments into their homes once the market recovered."
Over the past 15 years, Paul Kowlaski Builders has distinguished itself, designing and building large-scale, high-end remodels, historic renovations, additions and new, custom home construction. The firm has curated and molded a collaborative, guided process to get the outstanding outcomes their clients want and provide confidence along the way.
"We love partnering with our clients, who are investing in their homes and their lifestyle. With our design and build services, we can see their goals and their dreams come to fruition and become a lasting part of their family memories." - Paul Kowalski, Owner, Paul Kowalski Builders
Paul Kowlaski Builders is a collaborative team of professionals with deep experience in architectural design and concierge construction. The firm helps homeowners elevate their homes to match their lifestyle, reconfiguring them to create gracious indoor and outdoor living spaces, and amenities. The integrated team of Architects, personal Project Guides, Estimators, and Project Managers seamlessly manage and execute every aspect of their clients' projects to create the homes of their dreams. To learn more, contact Paul Kowalski Builders directly at (704) 285-0955.
View the press release: http://www.prweb.com/releases/the_charlotte_observer_names_paul_kowalski_builders_charlottes_best_remodeler_contractor/prweb19053022.htm