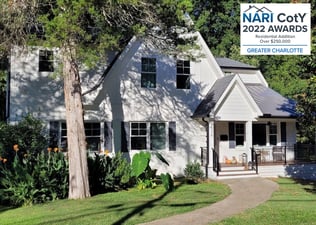 What a year 2022 has been-a year of growth and innovation, challenges and triumphs! Despite supply chain and labor shortages, Paul Kowalski Builders completed transformational, large-scale remodeling projects, and received recognition from our peers and our community. We also made key investments in our team and technology to enhance the customer experience. We'd like to share some of the highlights with you.
Special Recognition in 2022
This year, Paul Kowalski Builders received recognition from our peers and the people of the Charlotte metro area. We are truly grateful to be acknowledged for the quality of our work.
We received the National Association of the Remodeling Industry (NARI) of Greater Charlotte County Contractor of the Year in the residential addition in the $250-$500K category. We're proud of the Architectural Design and Concierge Construction our team delivered to completely transform a 50s rancher in the Ashbrook neighborhood.
We were honored to win the Charlotte's Best Award 2022 for Best Remodeler/Contractor in the Charlotte Observer! This recognition is based on the nomination and votes of local residents.
Service Innovations
Over the past 15 years, we have curated and molded a collaborative Design-Build process. Late last year, we developed the concept for a new position to enhance The PKB Experience for our clients. In 2022, that concept came to life as we added two Project Guides to our team. Our Project Guides accompany our clients, guiding them and providing concierge service, from the time they sign a design agreement to the time their project is complete. Our Project Guides help with the decision-making process and scope of work, maintaining each project's timeframe and budget. Functioning as partners and friends for our clients, they also serve as quarterbacks for our internal team to make sure that we deliver a compelling, design-build project.
Technology Innovations
At Paul Kowalski Builders, we are always striving to improve our processes and efficiency to enhance quality and the customer experience. This includes making continual investments in technology. In 2022, we purchased and integrated Chief Architect®, architectural home-design software. This true-modeling software allows our clients to see their projects before they're even built, providing walk-throughs of their remodels, renovations additions and custom construction to envision their dreams coming true. We added Lidar scanning technology to get the most-accurate measurements for our modeling software. For efficiency behind the scenes, we implemented construction management software, BuilderTrend®. These investments have helped us perfect our templates and The PKB Experience.
At Paul Kowalski Builders, we provide a curated, guided experience to bring dreams to life. We want to express our appreciation to our valued clients for your trust in us, our incredibly talented team and the community we love. If you're planning a large-scale remodel, historic renovation, addition or custom construction in 2023, we invite you to contact us at (803) 879-4502.